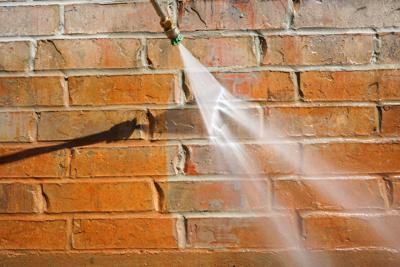 Many people ask whether it is possible to power wash brick houses. The experts say yes. You may need to consult an expert before you start to pressure wash your brick house.
Inspect and Repair
Pressure washing bricks is not the same as pressure washing siding or hardy plank. Brick, just like concrete, has a porous structure. Brick is very porous and can absorb water easily. It can crack, chip or even break if it becomes waterlogged. The mortar is what holds bricks together, and it is not just the brick. The mortar that holds the bricks together is more likely to come looser with age. These areas should be fixed before pressure washing. Give them enough time to dry.
Soft Pressure Washing
After determining that the brick is in good shape, wash the exterior wall with soft pressure washing. What is soft washing? Soft washing, which is different from traditional pressure washing on your driveway or deck, uses a low-pressure water spray and cleaning materials such as soap or detergent. The exterior surface is not cleaned by using water pressure alone. This allows for a gentler cleaning process while still preserving the beauty and integrity of the brick surface.
Remember that bricks painted with paint can chip. Contact Sikes Pressure Washing if you have any questions or would like to get more information about cleaning brick homes.